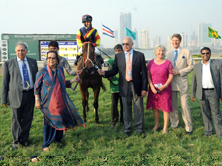 Merchant of Venice (Glory of Dancer ex Maquillage) being led in after winning the B K Rattonsey Memorial Maiden Multi-Million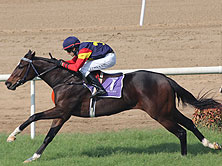 Caruso on his way to victory in Bombay, he runs in the Highgrove Stud silks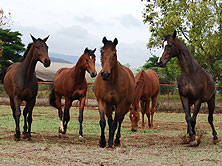 Life has come a full circle for Onassis, Diego Rivera, Algeciras & Picasso having been raised in these very paddocks now enjoying in retirement having raced at the highest level with success
To Khushroo & Deepa Dhunjibhoy, racing is a passion. Apart from breeding some of the finest racehorses on the Indian racetracks today, they love racing them under their own colors too. Most of the racehorses are bred at Nanoli Stud, though Khushroo occasionally buys top yearlings from other stud farms as well.
The horses run in his name under the banner Five Star Shipping.
Gr.1 Indian 1000 Guineas winner Dangerous Liason & Lei who won the Gr.1 Poonawalla Breeders Million were amongst the high class horses owned by Khushroo earlier on alongwith Incdictment, the son of Razeen who went on to win the Indian Triple Crown – namely the Gr. 1 Indian 2000 Guineas,
Gr. 1 Indian Derby and Gr. 1 Indian St Leger. Indictment had earlier won the Gr.1 Poonawalla Breeders Million and the Gr.1 Nanoli Stud Pune Derby.
Khushroo Dhunjibhoy has also raced his horses abroad. Horse of the Year Zurbaran who won the Gr.1 Indian Turf Invitation Cup, Gr.1 Indian St. Leger and Gr. 1 President of India Gold Cup was in the first batch of Indian horses to race in Dubai.
Vijay Shirke and Berjis Desai have teamed up with Khushroo for the last few years after the phenomenal success they had with the wonder filly Jacqueline (King Charlemagne). This Champion filly became the first horse to win four Classics in a row, an amazing feat that is unlikely to be surpassed in a hurry. They have since been breeding to race and buying the best of yearlings from various farms to keep the success going. She has since travelled to Ireland where she is boarded at the famed Coolmore Stud, she has a brace of Colts by the leading sire Galileo.
Other high class performers raced by the trio include Group winners Amadeus, Eloise & Portia and more recently Bullseye (Kheleyf), Circle of Bliss (Singspiel). Messrs Byram Jeejeebhoy, Farouq Rattonsey & Jaydev Mody have also teamed up with Khushroo & Deepa to successfully race in partnership the likes of Onassis and Monet amongst others.
The majority of these horses are in the care of Pesi Shroff & J Gaekwad with the former having made the transition from a champion jockey to a champion trainer a smooth one, other trainers who handle horses owned by us include M K Jadhav, B Prakash, Nina Lalvani, Vinesh Gaekwad, Hosi Daji, Suleiman Attaolahi, Neil Darashah, Aarti Doctor, Laxman Singh, Shyam S Habbu & Z Darashah.